FROM EAST .....
... to Trieste
The Yugoslav 4th Army together with the Slovenian 9th Corps entered Trieste on May 1, 1945.
Trieste operation (Tršćanska operacija)
Started on 29 April with advance of main force of the 4th Yugoslav Army towards Trst (Trieste). Two operative groups from the 4th Army advanced by directions Ilirska Bistrica-Divača-Trst and Lovran-through Istra-Trieste, while the 9 th Yugoslav Corps advanced over Kras towards Trst, Monfalcone (Tržić) and Gorica. By 30 April units of the 4th Army surrounded Trieste from all sides and with concentric attack and help of partisan forces in the city, after heavy fighting's, liberated Trieste on 1 May.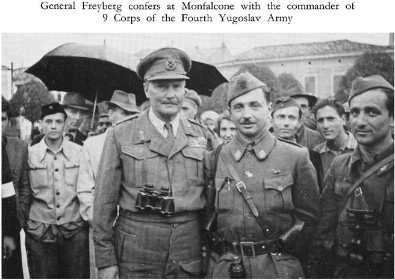 Units of 20th Division during street fighting's against Germans captured University, Military hospital and railway station in storm attack.
YU TANKS FROM OPICINA IN DIRECTION OF UNIVERSITY OF TRIESTE
YU TANKS DOWN VIA CORONEO
11th Brigade of 26th Dalmatian Division reached coast at 'San Marco' docks while 3rd Brigade of 43rd Division cleared peninsula Milje (Muggia) and captured Žavlju.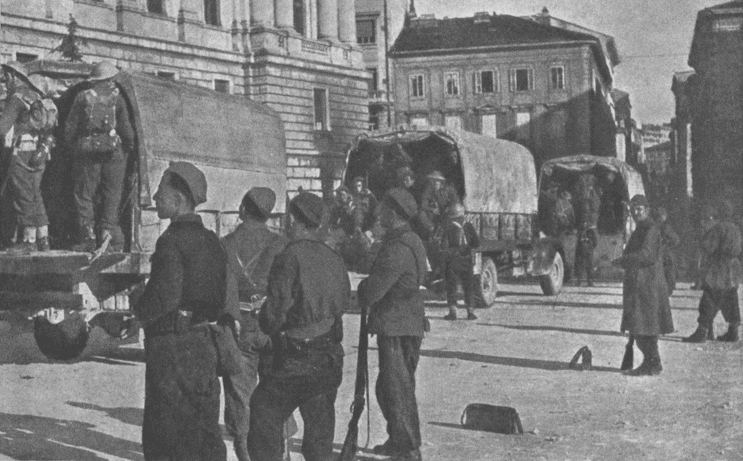 YUGOSLAVIAN & NEW ZEALAND TROOPS IN FRONT OF TRIESTE COURTHOUSE
YU TROOPS AT THE COURTHOUSE
YU TANKS IN VIA CARDUCCI
YU Troops on rooftop of building that will become HQ of Trieste Communist Party
YU TANKS on the "Rive"
YU tanks on the "Rive"
YU troops near SAN GIUSTO hill
Stronghold at Opicina was captured on 3 May and during those days also was liberated entire Slovenian littoral, Beneška Slovenia and Istra. The German 97th Corps capitulated on 7 May and with advanced of the Motorized detachment of the 4th Army towards Koruška and the 29th Division and the 7th Yugoslav Corps towards Ljubljana, Trieste operation was over. 5200 Germans have been taken prisoners in these fighting's and large number of killed and wounded.
3RD MAY - OPICINA (Trieste)
Axis troops in Trieste sector were remains of various formations as well as part of local defense force - Trieste Costal Defense sector (Kustenverteidigungs abschnitt Triest), from Milje (Muđa, Muggia) peninsula to Soca (Isonzo) river, which had 3 costal artillery and 2 anti-aircraft battalions, 5 battalions and one mixed battalion plus numerous naval and army installations.
Besides 188th and 237th Division of German 97th Corps in Istria. There was several police battalions of Italian fascist militia, around Gorica there was 10th SS Police Regiment. Serbian Volunteer Corps and Chetnik Dinara division which were used for railway security in Istria were used in combat around Iliriska Bistrica and sent to Soca. (fm www.vojska.net)
---
4th Yugoslav Army (of Yugoslav Partisans and Yugoslav Army) - History
Formed on 1 March 1945 from the divisions of the 7th Corps (14th and 18th), 8th Corps (9th, 19th, 20th and 26th Dalmatian) and 11th Corps (13th, 35th and 43rd) and little later 9th Corps (30th and 31st). In addition the 4th Army had Artillery, 1st Tank, Engineer and Replacement Brigade, Motorized Artillery Battalion and liaison regiment. In final operations of JA, 4th Army carried out Lika-Primorje operation, Rijeka operation and Trst (Trieste) operation.
9th Corps of NOVJ (Deveti korpus NOVJ) - History
Ninth corps was formed on 22 December 1943 from the 30th and 31st Slovenian Division and Partisan detachments from Slovenian coastline and western Gorenjsko. Fought in Slovenian coastline, Beneška Slovenia, western Gorenjsko and from February 1945 in Slovenian part of Istra. In April 1944 Trieste Brigade joined 9th Corps followed by Italian Division Garibaldi Natisone in November. In final operations of Yugoslav army participated in liberation of Slovenian coastline with Trst and Gorice, Beneška Slovenia and western Gorenjsko.
Under construction ...